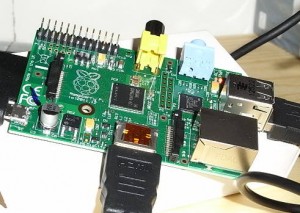 Raspberry Pi, the low-cost credit-card-sized educational computer, is finding its way into high-end home audio systems.

The key software is RaspBMC, a media player package based on the XBMC Linux distribution.

Together they offer network media access, remote control, and a whole host of other features usually found only on multi-hundred pound sound systems.

There is only one snag: Raspberry Pi's own analogue audio output is distinctly medium-Fi.

So, Electronics Weekly asked itself, how difficult would it be to design a piggy-back board to add a high-quality audio output to Raspberry Pi.

A little phoning around revealed that more than one chip company has been thinking along the same lines, and by coincidence Wim Lemmers, principal application engineer at NXP, recently acquired three Raspberry Pis for his lab on which to develop Linux drivers for one of the firm's audio codec chips.

UPDATE – Wolfson has releases a hi-fi audio board for Raspberry Pi

- See more at:

http://www.electronicsweekly.com/news/d ... lbeQY.dpuf

...
http://www.electronicsweekly.com/news/d ... i-2013-07/